The Collected and Ephemeral Works of
Paulina Borsook
A-Life Gamers
copyright 1998, Hollis Entertainment + Zauberberg.com
Hollis Entertainment is the professional name of my toy-designer friends, John and Christine Hollis (basic concept and images); Zauberberg.com is me (scenario, story and text).
The backstory
A-Life Gamers sprang from work done by a team of researchers at Los Alamos National Laboratories, home planet for work on chaos and complexity and artificial life. A-Life Gamers are part biological, part electromechanical, and part electronic: they exist both IRL and in cyberspace. They are Raptor, Lobo, Rysalka, and Kodiak --- each with character traits and powers reflective of the scientist that created him or her. And these highly-individualized character traits provide affinities with very special kid playmates --- who the Gamers call their Bio-Mates.
A-Life Gamers came into being as part of an experiment in the mechanics of artifical life, with the hope that the Gamers might be used in information-warfare tactics against Soviet command-and-control installations --- rather like the cyber-equivalents of dolphins trained by the Navy.
In particular, the A-Life Gamers were experiments in exploring the interface between IRL and cyberspace, and the speed and fluidity with which corporeal beings can jack their intelligence in and out of the virtual worlds of software and the Net. From their beginnings, A-Life Gamers play with the boundaries of the real/physical and the logical/virtual.
One day there was a violent electrical storm in the high New Mexican desert, resulting in a power surge/outage that zapped the A-Life Gamers. The surge also rendered inoperable the electronic locks on the door to the A-Life Gamers' well-hidden play/lab-room, blowing the room wide open, admitting wind and floodwaters. As a consequence, a rare green canyon-rattlesnake slithered in and terrorized the Gamers. For the rest of their existence, they would be petrified of the sound of rattles --- or anything that comes close.
Fearing for their lives, the A-Life Gamers used their Radiomail wireless connection to upload their intelligences onto their native Sun SPARC workstation --- preserving their -virtual- lives, even though they felt their -physical- lives were in deadly peril. And through a little-known backdoor in a VRML-optimized version of Unix, the Gamers' avatars escaped onto the Net at large.
Meanwhile, the wind and water in their playroom washed the IRL A-Life Gamers away from the Lab in the worst flashflood the desert had seen in years --- so that each Gamer's physical self ended up in a different safe place: one washed up by a riverside in Albequerque (Kodiak), one blown all the way to a beach in Galveston (Rysalka), one ending up wedged under the chassis of a truck which unloaded in St. Louis (Lobo), and one picked up by a bird and dropped on a mountainside in Wyoming (Raptor).
The geographically-dispersed IRL A-Life Gamers keep in touch with their Net selves through their wireless connection: as the story unfolds, effort is made to rejoin the IRL Gamers with their virtual selves (for example, through the Internet, one of the Bio-Mate/kids finds a pen pal who lives in Wyoming, who telemarks to Raptor's rescue).
Meanwhile, once loose in the Net, the virtual A-Life Gamers were a bit like four-year-olds abandoned by their mother: endowed with native intelligence, self-learning abilities, and tremendous adaptability, they were still too early in their development to understand exactly what had happened to them, or where they had come from.
There are several consequences to this: for one, the A-Life Gamers would always retain a homing instinct towards the Lab. For another, they dimly remember the existence of a -fifth- A-Life Gamer, a second-generation prototype: they don't know if PanHermes survived somewhere in cyberspace, what the characterstic of this A-Life Gamer was, etc etc. But fundamentally, they were left with a feeling of loss and longing for attachment and completion. Which is why they were so eager to attach themselves to human kid Bio-Mates; and why, even when they are not playing (how they were programmed to learn), or going on adventures with their Bio-Mates where they save the world --- they are also, dimly, trying to make their way back Home.
As the A-Life Gamers were -programmed- to be self-learning, they survived in cyberspace, and made their way to Xerox PARC's famous Lambda MOO, feeling at home with the self-contained multiple cyber-universes and play-spaces inhabited by wide varieties of virtual humans, animals, and cyber-organisms. And as the Gamers were designed for self-selection i.e. to go where their attributes/weapons would work best, each was drawn to a different Bio-Mate/kid who in turn was each playing on Lambda MOO --- though at different times and from wildly different geographic locations. Each A-Life Gamer then went to live with a particular Bio-Mate/kid --- though in some cases, true stealth was required, particularly if the Bio-Mate/kid did not have exclusive use of a computer (shared with a sibling or parent or classmate).
At this point in their development, the A-Life Gamers are somewhat like 17-year-old kids: with adult powers, but kids' lack of understanding of the reach and limits of those powers. And again, since the Gamers were programmed to be self-learning, they are always trying to teach other how to be like each other, a useless and comic exercise. For example, Raptor will never be able to teach Lobo to fly, though Raptor doesn't really understand why his friend can't do this; Kodiak, no matter how hard he tries, will never be as fast as Lobo; and Rysalka can't really explain how she shapeshifts --- or why, to her companions, morphing from eel to warrior isn't as elemental as breathing.
As a secondary plot element, the Los Alamos researchers/parents/god-figures would like to retrieve the A-Life Gamers: in part because they have honest concern for their creations (they want no harm to come to them, nor for the A-Life Gamers to -cause- any harm); and in part because the scientists believe the A-Life Gamers might still be useful. The Cold War may be over, but terrorists and terrorist states still exist; and the A-Life Gamers could be useful for -corporate- espionage, too. Like the Greek gods, the researchers (or the threat or intimation of them) pop up at odd times in the A-Life Gamers' adventures --- but whether the scientists' presence has good or ill-intent, is highly variable. The relationship between the scientists and the Gamers, like that between parent and child, is ambiguous and changeable.
The A-Life Gamers themselves
Each of the four researchers created an A-Life Gamer that embodies one of his or her personality traits (just as owls, thought to be wise, were the special companion animal of Minerva); and in turn, each of the four A-Life Gamers has a special connection with one of Bio-Mate/kids.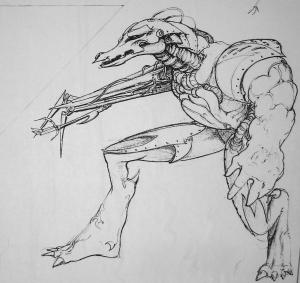 A-Life Gamer (Lobo) has wolf-like qualities of silence, cunning, acute senses, and speed. In the real world, Lobo has a unique combination of muscle and cartilage that fans out, much like a wolf's ruff, when he is faced with an opponent. He is known for his ability to range far and wide --- and for his superior sensorium: superb vision, night-vision/infared+uv detection, hearing way beyond (both in sensitivity to frequency and decibel-level) that of a dog, and a sense of smell accurate in parts per trillion. A refined hunter/predator, Lobo verges on the renegade, whether in cyberspace, a videogame, or IRL.

In a videogame, Lobo's weapons and responses would be the fastest. His special weapon would be a laser-pistol --- for -nothing- in this universe is faster than the speed of light. And in a videogame or IRL, when faced with an obstacle, Lobo could usually sense its coming and be far out beyond it before it could get in his way.

A-Life Gamer (Rysalka) has the sinuous and playful qualities of a river otter. In the real world, Rysalka's spine is as fluid and slithery as a Slinky. In cyberspace, she has the ability to slip through most firewalls and security software, and has chameleon-like abilities to fake-out most programs. She is a shapeshifter, and for short periods of time, she can mimic/blend into any surrounding, whether of sentient beings or parts of the landscape. She is the ultimate infiltrator.

In a videogame, Rysalka can slip through doors and windows where others can't; traps or hidden doors appear for her where they wouldn't for the other A-Life Gamers. As she can sneak up the closest to an opponent, her secret weapon is a one-two punch/electronic dagger that effectively closes the circuit and -electrocutes- her targets.

* A-Life Gamer (Raptor) has protective armor akin to feathers made of chainmail. In cyberspace, Raptor is invulnerable to attack by viruses, hostile intelligent agents, and bots --- and in all spheres, is the Great Evader. Raptor, of course, can fly, both IRL and in a videogame. His signature move is a killer kamikaze-dive, much like the attack of a high-flying seabird that swoops from invisbility way up in the sky straight down into the ocean to catch a fish. Similarly, in a videogame, Raptor divebombs opponents.

Like many birds, Raptor has infallible sense of direction and homing instinct, in part due to his ability to read the Earth's magnetic fields. The other A-Life Gamers rely on him to guide them when they are lost in a maze, an anonymous remailer, or any other disorienting situation. Raptor can also interpret the magnetic resonance of other objects the A-Life Gamers run into. Because his extra-sensory perceptions are so unusual and at times overwhelming, he relies on his friends to help him make sense of the information that comes his way.

A-Life Gamer (Kodiak) has the grizzly-bear aspect of being an unstoppable force. He is the smartest, most massive, most-powerful, but slowest moving of the A-Life Gamers. In cyberspace, he can tear through thickets of protective software and crash alien software. Kodiak is the leader of the A-Life Gamers, and is the Gamer most likely to try to protect the others. He has the beginnings of wisdom.

Because he is the smartest and most powerful of the A-Life Gamers, he has the -most- weapons in a videogame, and the most powerful, such as a cannon. Critically, he is -not- the fastest.
Pairings with Bio-Mate/kids and scientists.
A-Life Gamer Lobo is paired with:
Bio-Mate/kid: Kai, a boy of mixed Chinese/Japanese/Portuguese ancestry who lives on a cattle ranch in Hawaii. Kai is a self-directed loner, loves to surf --- and is the sort of kid who, because he is always fearlessly striking out on his own, has adventures beyond what most boys his age imagine: for exmple, because he is always wandering far from home, he has a narrow escape from a sudden volcanic eruption --- and is able to race back (with his part-dingo dog. He always has his dog with him) to raise an early warning. Shane, cowboy vibes...

Los Alamos scientist: The Lone Wolf. Never attended college, but such a wizard hacker the NSA brought him onboard to work on computer security and cryptography by the age of 19. The handsome fighter-pilot James Bond figure of the four: think appealing outlaw. His infamous online handle is 'red lobo'.
A-Life Gamer Rysalka is paired with
Bio-Mate/kid: Zoe, an inline skater and accordion-player from Venice, CA, who plays in an all-girl punk band, Catfish. Zoe moves with ease between her divorced parents' two houses: and is comfortable wherever she goes. She loves dressing up, is a mistress of mimickry and disguise. Has a salt-water aquarium.

Los Alamos scientist: Elena. Brilliant software engineer, with high Tatar cheekbones and cool affect. As with many who are mathematically gifted, she is a passionate musician, and plays the piano. She first came to Los Alamos as part of a joint U.S.-Russia detente effort --- and just stayed on. Loves to ice-skate and swim: water is her native element.
A-Life Gamer Raptor is paired with
Bio-Mate/kid: Matthew. An adopted African-American living in an suburb northwest of Chicago, Matt is the kind of latchkey kid who is always rescuing strays. His bedroom contains an ant-farm, gerbils, his beloved macaw (who is practically always perched on his shoulder) --- just about any animal-form that can exist in a cage. Gentle, near-sighted, Matt is nonetheless a quiet force no one would -dream- of calling a sissy: through his calm strength and Orpheus-like magic with animals, he is able, for example, to break up a playground fight between a pitbull and a doberman --- simply by looking the dogs in the eyes and commanding them, with a single word, to stop.

Los Alamos scientist: Rory. Montana-born part-Blackfoot ornithologist/molecular biologist who worked for a hotshot Seattle biotechnology startup funded in part by Paul Allen and Bill Gates. Using massively-parallel Intel supercomputers, he developed synthetic analogs to the pharmacologically-active compounds he discovered in the plants he observed blue herons eating in his fieldwork --- swamp grasses that seem to protect them from the harmful effects of pollution. Came to Los Alamos because his computer simulations of the flocking-behaviors of Canada geese turned out to have wide military and industrial application. The nature-mystic of the crew, Rory is a fervent ecologist. He loves to hang-glide, in homage to his revered birds.
A-Life Gamer Kodiak is paired with
Bio-Mate/kid: Barth. A borderline juvenile delinquent, his parents moved him from Australia (which he loved) to boring Boston, which he hates. The class cutup, Barth is the sort of in-your-face kid likely to attempt to rock-climb the John Hancock building. Hyperactive, with a Bart Simpson-like authority problem, he is secretly a computer-genius --- which implies that he -can- have steadfastness and calm when required, or when he choses to act with it.

Los Alamos scientist: Dr. Sam. The elder-statesman of the team, he was originally a physicist involved in hush-hush nuclear-weapons research. As the Cold War wound down, he became drawn to computational chemistry, particularly to molecular biology, with its Grand Challenges in recombinant DNA and protein synthesis. It was his genius that brought the team together, and made the link between the biological, the mechanical, and the logical: the A-Life Gamers. A large, mellow, slow-moving man, he nonetheless exudes a you-mess-with-me-at-your peril aura.